The big mystery of contemporary art
Published: June, 2014, DIE WELT AM SONNTAG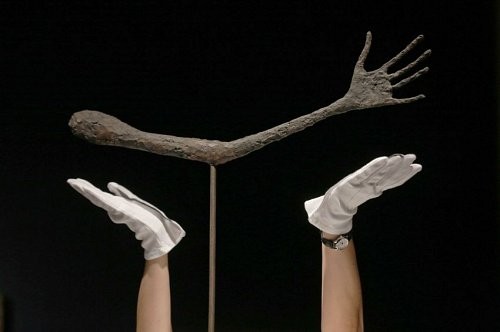 A couple of weeks ago an old friend B called me to ask whether I would like to come to New York and have a look at a few paintings that had been offered to him. B, who doesn't collect art, was intrigued nonetheless because the offer was very special: a Rembrandt and a few works by Degas. I carefully tried to explain to B that first of all, I'm specialized in contemporary art, and more importantly, that it is a rather complicated undertaking to determine whether or not an alleged Rembrandt painting – even if it looks like one – is real. I told him that a Rembrandt specialist would need to take samples of the paint and the canvas in order to analyse whether they matched the pigments and textiles that were used in the 17th century; that there would be a carbon dating for the wooden frame and an X-ray check to reveal any hidden drawings from underneath the painted surface.
Even if the painting would turn out to be an original 17th century painting, there would still be a chance that the work was made in one of Rembrandt's workshops, or that it was made by his follower, which would entail a big difference in price. The specialist would need to further check whether this painting was mentioned somewhere in the existing catalogues or relevant literature on Rembrandt – all very time and money consuming. The biggest question though is why an owner of Rembrandt would offer it to the inexperienced B, instead of an auction house or an international dealer specialized in this artist, from whom surely he would fetch the best price.
See here one of the reasons why collecting contemporary art is far easier than collecting art from older periods! A collector of contemporary art will have hardly any problems concerning attribution and forgeries that have haunted the art market time and again. Recently, the reputable New York gallery Knoedler was revealed to have systematically sold its clients fake millions-worth Rothkos and Pollocks that had in fact been freshly painted by a Chinese immigrant in Brooklyn; in the meantime the German Wolfgang Beltracci was successfully marketing his self-made paintings as works made by Ernst, Picasso and Léger. Recurrent cases of forgeries and their legal consequences make it difficult to find experts who would be prepared to guarantee the authenticity of a given work, this of course adds to the problem. To make it even more complicated, historical works made prior to the Second World War may well be the spoils of looting, as demonstrated by the recent case of Cornelius Gurlitt.
Does this sufficiently explain the current popularity of contemporary art amongst collectors? Not really. The art market has always been rife with forgeries and looted spoils, but this was never a reason for collectors to start buying art from their own time-period on a massive scale, as is the case now. In the new millennium contemporary art has unquestionably won popularity over the art from all other historical periods. Whilst in 2003 the value of the auction sales of the Post-War and Contemporary was 593 million Euro versus 614 million for Impressionists and Post-Impressionists; in 2013 the value was 4,943 billion Euro for Post-War and Contemporary versus 1,363 billion Euro for Impressionists. The turnover that used to be slightly in the disadvantage of Post-War Contemporary, turned into one of 3,5 times more in its favour. The same applies to Old Masters and works of Modern Art that suddenly found themselves standing in the shadows cast by works that were produced more recently. While the turnover of Old Masters in 2003 achieved 427 million Euro versus 593 million, in 2013 the difference increased to 1,034 billion versus 4,943 billion; the turnover of Modern Art amounted in 2003 751 million versus 593 million; in 2013 the balance changed into 3,158 billion versus 4,943 billion. In 2013 Post-war and contemporary art was the largest sector of the market – it accounted for 46% of the fine art auction market's value, and for 44% of its volume. The result of the contemporary auction week in May 2013 in New York showed the unprecedented number 1,5 billion USD.
As collecting art of one's own time used to be a marginal phenomenon in the past, this new popularity is astonishing to say the least. So what makes the contemporary art so appealing, to the disadvantage of the works from the past? The availability of works certainly forms one of the main reasons. The contemporary art world has the ability to permanently deliver new artists and new artworks with a potential of high quality, whereas the supply of excellent works from older periods is limited. Although we don't know who it is yet, the new Warhol is amongst us already and the collectors who discover him or her early, will profit from the raise of his or her cultural significance and subsequently they will also profit from the increased financial value of the works. In contrast, the artistic significance of consecrated Renaissance, Baroque or Impressionistic artists, is more or less fixed by the current consensus of art history's canon. This makes the building ambitious collections of works from well-known historical periods difficult. The best works from the 17th or 19th centuries now belong to public or private collections that cherish them, and as result these works are available for sale only very sporadically. When they do appear on the market they achieve high prices, as shown by the example of The Players by Cezanne; rumour has it that a Qatari buyer was prepared to pay 250 mio USD. This applies however to specific works, as the Impressionists and Modern auction at Christie's this week in London has demonstrated: 20 out of 60 lots were unsold, including some of the top estimated lots by Mondrian and Giacometti.
The limited availability of what are considered to be masterpieces can be seen as an explanation for the lack of interest in collecting historical works; the price argument however is not totally convincing, since contemporary art works have been breaking many records recently, putting the prices of older masters far behind them. Numerous examples can be found: Gerhard Richter's Domplatz, Mailand sold for 28 mio Euro, Jeff Koons' Baloon Dog for 39 mio Euro, not to mention works by young artists like Tauba Auerbach (born 1981) that achieved 1,3 mio Euro last May. The more than million-worth works are no longer sporadic incidents but cases that have been occurring regularly during the recent auction weeks in New York or London. For these sums one could build up great collections of works by from lesser-known Dutch masters, rarities, Romantic painters, oriental sculptures or superb African masks. An auctioneer recently stated that it is easier to find a good Breughel than a good Peter Doig.
Therefore, the popularity of contemporary art cannot be explained solely in the light of the scarcity of historical works. This factor is certainly of influence, but only in combination with other social, economic and cultural factors. For many collectors, big and small, collecting contemporary art brings along a form of a social life, with a busy calendar of international festivities, such as art fairs, biennales, exhibition openings, visits by other collectors and meetings with artists. "The art is great but it's the community, it's the people that are truly great!" said one American collector "You go anywhere in the world and you have friends." Contemporary art is like a language: "when you meet people who collect, you speak the same language, even if someone is from Alaska and you are from Berlin."
Along with the notion of the 'universal language', the contemporary art world offers exclusivity and glamour. Art fairs like Art Basel organize pre-previews and pre-pre-previews, whereby, depending on one's status as a collector, one can enter the preview fair at 11 or 13 or 15 hours. The fairs are the events par excellence to display wealth and social success. As not all art works are available for everybody – even if they can pay the price – having the access to buy works that are in high demand corresponds with the social prestige of a collector and his position in the art world and outside. You can find Leonardo di Caprio strolling around art fairs; in his song Picasso Baby famous rapper Jay-Z sings about his desire to have a Koons and sit at Christie's, whilst artist Marina Abramovic advises Lady Gaga on how to find her inner balance. This is a world to which many want to belong.
At the same time stunning results from the auctions and fairs attract new buyers, some of whom would attempt to use art as investment and speculation material. This is certainly another very important reason for the influx of new buyers into the art world. But what makes contemporary art truly appealing for many ambitious art collectors is the opportunity to influence art history and to create value on their own.
Because contemporary art provides access to our own culture, uses present-day media and engages with subjects that are relevant now, it is easy to identify with. Collectors can speak with artists about their works in person and try to understand them directly without the obligatory mediation of art theory and art history. If collectors become convinced about the relevance of specific artists they can add to their visibility to the public. The new millennium has faced an explosive growth of private museum and art spaces.
The BMW Collectors' Guide by Independent Collectors from 2013 lists 216 private museums and private spaces worldwide that have been open to the public, some of them permanently, some of them at appointment. From the total number of 216, 166 private museums and spaces were opened after the year 2000 (77%), and especially after 2006 (56%). Reasons for this striking development will have certainly included the joy of sharing art with others and the desire to see the collections, but there is more.
A private museum undoubtedly has more freedom in creating an own narrative than a public museum. Apart from its artistic tasks, the latter is obliged to take art historical responsibilities into consideration, which are linked to its general public function and continuity of the institution. In contrast, private museums can make subjective choices and challenge the traditional way of engaging with art in a museum. The American collector Rosa De la Cruz made a distinction between the private and public museums using the notion of time: the past versus the future and the speed versus the sluggishness. In her opinion, private collectors are able to act quickly and take risks whereas the public museums are more concerned with conservation than with understanding the present.
When it comes to acquiring works, nowadays collectors can compete with public museums, especially taking into account the limited budgets of the latter. Whereas some collectors invite museum curators to organize their exhibitions, and thus attempt to take part in the art theoretical discourse; other collectors opt for a less conventional approach by acquiring art that is not (yet) considered as relevant by art institutions. Thanks to the visibility and prestige of a collection, the collector can – even if only short-lived – actively add to the artistic relevance of an artist. Whereas the significance of historical works is always tied up with academic art historical discourse; the contemporary art world defies this rule by allowing critical and theoretical reception to be ignored. The career of the British Damian Hirst exemplifies this phenomenon, as he got his first museum solo show in 2012 after 20 years of being an extremely successful artists among collectors. Collectors are able to 'make' artists using auction houses and by cooperating with public museums, since a dominant theoretical framework that would impose criteria for quality judgments is lacking.
The general feeling is that there is a new artistic canon in the making, which is not controllable by a single authority. Valorisation of contemporary art works and artists, at least for a certain period of time, has been taking place through the public exposure – not only by public institutions but also by private collectors. The growing number of private museums has covertly started to compete with public museums in terms of both the acquisition of works and the formulation of a changing artistic canon.