Subodh Gupta
Published: January, 2011, ZOO MAGAZINE #30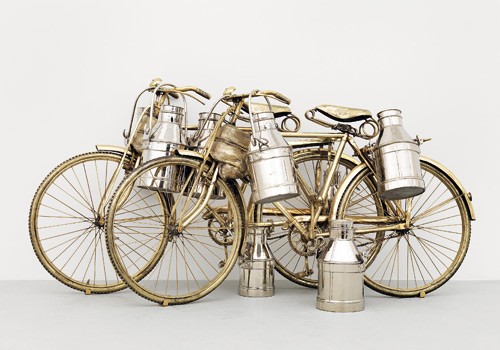 Indian superstar artist Subodh Gupta draws inspiration from Hindu mythology and Bollywood. His own life could also inspire a movie: a young boy from a large family growing up in one of India's poorest regions, discovers a talent for drawing. He attends art school, moves to Delhi, works in theater productions and visual arts. He develops a hyper-realistic painting style where kitchen utensils serve as subjects, then goes on to create large installations and sculptures. Within a couple of years, he becomes an internationally acclaimed artist whose works are sought by famous collectors worldwide.
Marta Gnyp: The prophecies about our world as a global village seem to have come true. Thanks to new media, the Internet and the fast-pace of communication, we all seem to speak a similar language— even in the field of arts. Do you consider yourself an artist who works in the tradition of Western art? Is it inevitable that a good international artist has to relate to the Western art tradition?
Subodh Gupta: No. For me art has one language and it is not relevant to divide the artistic legacy and production into Western or non-Western. We all work in a similar way, from the visual and conceptual point of view. The art language is, however, not a common thing; it is something very secret and private. A good complicated movie or a good book can be understood easily by the attentive reader who knows how to read and interpret it. On the other hand, the artist is always rooted in his own tradition. This is the reason I use Indian objects and Hindu rituals. Jasper Johns could make the American flag the way in which he did it only because he was an American artist; it would carry a completely different meaning if a Chinese were to make it.
MG: I read that getting to know the works of Marcel Duchamp was very important to you: you even recently remade one of his readymades which referred to L.H.O.O.Q., his Mona Lisa with a goatee Et tu, Duchamp? Do you consider the daily objects you use as a form of readymade? According to Duchamp, the readymade has to fulfill two criteria: it has to be visually neutral and not personal. I wonder whether these criteria apply to your work — firstly, because they are visually very attractive and secondly, because as I understand, they appeal to many Indians by calling up childhood memories. What is the function of these objects for you?
SG: I don't believe that the ready-mades by Duchamp were not visually attractive to him. I respect Duchamp as a great artist and thinker and the Mona Lisa was a kind of homage to him, an expression of my admiration for his great artistic freedom in thinking. But my objects have a different character; I don't care about the ready-made concept of Duchamp. I use what interests me, what is mine, what fits into my way of thinking and art making. Those simple kitchen utensils are a visual paradox of the shiny attractive appearance on the surface and the emptiness inside; they show in a very accessible way the extremities of our time: the nothingness and the exuberance, and on a concrete level, the lack of the most essential ingredient of our life—food and the striking accumulation of hollow expressions of any kind.
MG: Does this partly explain why your work is so successful outside India as well?
SG: My themes are universal, although my references could be named the Indian village traditions, i.e. usage of cow dung and the importance of food. There is a combination of local and global languages. Everybody can read and understand in my art the paradoxes of our life.
MG: Have you been surprised with the enormous success of your works?
SG: Well, actually not. I am not surprised who I am.
MG: At what moment did you first feel you were an artist?
SG: I have always felt I'm an artist, even from the very beginning when I started to draw and paint but didn't know what art really meant. I didn't know what was good and what was bad art. I have been experiencing this fantastic energy ever since, and I have always been a very self-confident person about what I'm doing. I like it when the challenge becomes bigger every time for me as an artist.
MG: What is the status of the artist in your country?
SG: I spend the days mostly in my studio; I'm not a person who goes out very often. The artist is, in my opinion, a very normal person. The magic which is needed for my work can be found everywhere within the normal life of my friends, my studio, my surroundings, in common life.
MG: Speaking of your friends, the works of your generation of artists in India are so strong and omnipresent that one speaks about the Indian Renaissance. Why is it happening now? Is there an urge to express a new Indian identity through art, related to the country's more powerful economic position in the world?
SG: No, I don't believe in this statement. Artists from all generations have been important; I respect very much the modernists, to give you an example. Of course, the contemporary life—not only in India—is very complex. People have the desire to see more and want to be confronted with the new in a very fast way. I can sense two opposite dynamic powers in our time: one wants to bring us closer to each other and the one wants to divide us. Art has the power to bring us together. Seeing the recent developments from this perspective, art all over the world is becoming reshuffled; it is not only the Indian renaissance but the general increase of interest in arts. Look at the number of galleries, collectors and museums abroad. To the contrary, in India, we don't have one single museum of contemporary art. Surprisingly enough, people abroad have other ideas about contemporary art in India. The fact is that in this huge country, we don't have places to show today's art. We have a long way to go.
MG: It means that the position of the collector in your country is very important because they have the task of supporting the artist and making the art possible.
SG: We don't have a lot of collectors in India. We cannot always count on the few collectors spread out all over the country; foreign collectors who love our art are more important. Most of the people in India who love contemporary art have no money to spend it on art. On the other side, the richest people operating in the global context have often no single artwork in their home, which is sad. Thank god art lovers from abroad give us the possibility to express ourselves and to grow.
MG: Your works are being sold mostly to foreign collectors?
SG: Yes, sporadically to the Indian collectors, but mostly abroad.
MG: Speaking of buying and selling art, did earning huge amounts of money somehow influence your life?
SG: No, where I'm coming from and who I am doesn't matter; principally, the artist has the right to live a good life. If we are lucky to succeed in our life, why not enjoy it?
MG: Do you see a connection between your art and design and fashion? Do you see this crossing of disciplines as something typical for our time? If yes, does it bother you?
SG: Not at all. I love fashion and I love design. Merging of disciplines can be very fruitful. Look at what was happening during the Venice Biennale 2005, where architects, photographers, filmmakers, video artists, painters, and sculptors met in one platform. Fashion and design are very close to arts; they are definitely linked to each other. I respect them all.
MG: Your wife Bharti Kher is also a successful artist. Both of your personal stories sound like a dreamy Bollywood movie: a British young artist of Indian origin traveling to India for the first time meets an Indian artist and falls in love—without even speaking a common language. Then she moves to India and now, you work and live together. Did you start to look differently at Indian culture through her eyes?
SG: Yes, we became very close and as a foreigner, she wanted to understand how the system works so she asked me many questions. However, you cannot change the way you see, you can only start thinking differently. You are who you are; you cannot change rituals, not in your country, not in any other place. But you can change your own thinking—only you yourself, nobody else can do it for you. If I'm looking bad, that's me who is looking bad. If I'm looking good, that's me who is looking good. The perspective of every individual changes over time, but your destiny does not. So my language definitely changed, but my heart didn't.
MG: Do you see your art changing in the near future?
SG: I always experiment. My theater background helps me to look from different angles. I am not planning anything beforehand, but you will see after a while that my art looks different.
MG: What connect all your works together? What is for you the essence of your art?
SG: For me, art is about time. Art has the power to express feelings and ideas; it makes us understand what was not understandable. Duchamp is able to make us look and see differently: how much we owe the person of Duchamp, and how much to his work, we don't know. Yet, the visual language is so powerful and so individual that without looking at the works of Duchamp, I couldn't look into Duchamp as a person. So for me, as an artist, my artwork is me, but without my artwork, I am nobody.
MG: What would be your dream project?
SG: I don't know. I'm dreaming all the time.
Subodh Gupta is represented by Hauser & Wirth in Zurich, London and New York.