Stewart Uoo
Published: April, 2013, ZOO #43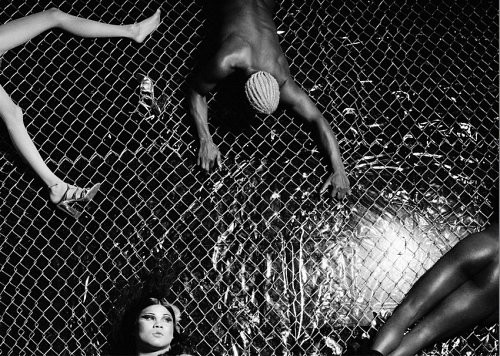 The work of the young American artist Stewart Uoo is enigmatic, hypnotizing, and opulent. With New York as his base the artist explores and manipulates various aspects of changing urban environments and shifting human identities.
Marta Gnyp: For your new exhibition in Berlin you made a series of beautiful photographs and a few odd objects that catch what looks like mysterious moments from the secret life of an elusive urban community. What was the idea behind it?
Stewart Uoo: In a way I always have these ideas. I walk around and collect them. I don't really spend so much time in the studio. I knew I wanted to create photographs because of the way images can be disseminated; you just have to press print or upload the file.
MG: What exactly intrigues you about photography?
SU: In these photographs there are several different layers like aspects of advertisement, fantasy, and documentation.
MG: This combination of advertisement, fantasy, document, as well as a narrative is close to the notion of fashion. How do the structures of art and fashion differ for you?
SU: You can pretend to escape from one by focusing on the other, since there are different formats in consuming the image in each supposed structure. I like to think of my objects in relation to styling; I can basically collage pieces together and present them in a given format. The engagement is very superficial and coded.
MG: You mentioned before that the concept of mutation is key to understanding your current work. Mutations of and in the city, mutations of surroundings, bodies, and identities.
SU: Yeah, the idea of being mutable, manipulating yourself, or of having the choice to manipulate yourself or of being forced and manipulated. Mutation within the city produces different kinds
of environments through mutated forms of power.
MG: Your work is very much implanted in urban structures and disorders. What role does horror or fear play in your artistic concept? Some of your objects look like urban voodoo.
SU: I didn't think about voodoo so frontally, but there is a horror theme. I often find myself in a kind of narrative trajectory, in which there is a certain degree of abstract violence. The narrative of this story is based on characters in a constructed future realm. I feel that the gesture of putting specific people into the future is a powerful picture.
MG: What would you like to express through your characters?
SU: These characters are between traumas. In shooting videogames there is always a chase, there is always the non-space between traumas where one can walk around, where there is almost no action to participate in. In these pictures surreal scenes unfold where they are running away from something, and trying to find something to kill.
MG: Does it somehow reflect your life or is this pure fantasy?
SU: I don't think it would reveal anything specifically about myself. I like that kind of narrative because it is not really a narrative. That's what I like about fashion too. Oh, here's some sad girl in the dessert waiting for a cowboy…
MG: What do you expect from the viewers who look at your photos?
SU: They could muse. Like with videogames, they can become the characters and follow their desires.
MG: New York is your city of choice, since you grew up in California. Is that where your interest in art was born? Was it an obvious choice for you to become an artist?
SU: It was just fun. If you are praised at something it gives you confidence. When I was little I already knew I was devoted to cartoons. It was like something that gave me life.
MG: Are you still making cartoons?
SU: I'm working on illustrating stories that my friends have written and also some album art. I don't think they should be shown to children.
MG: Is drawing an important part of your art?
SU: I only draw when I find myself in a situation in which I can convince myself to do it. Otherwise I just read stuff on the internet. I know, that's depressing. [laughs]
MG: Has your family somehow influenced your decision to become an artist?
SU: I have four sisters and two brothers, my dad recently passed away. He was like fifty-five when I was born, and my mom was about forty-three. I don't really know how old they are. According to statistics I'm supposed to be gay. [laughs] I was born this way!
MG: How was it to be surrounded by so many sisters and brothers?
SU: A bit claustrophobic, but the family was also very supportive of me doing art. They don't care what I do as long that I do what makes me happy.
MG: Did you have a happy time while living with them?
SU: Sometimes, sure. My parents were both from South Korea. Four of us were born in Korea and three of us in the US. Those of us born in America are taller than those born in Korea probably because of bovine growth hormone in milk. My dad fought in the war, in the seventies they moved to America.
MG: Do you speak Korean with them?
SU: Yeah, but I only understand it phonetically and it's probably some sort of country dialect. For economic reasons my mom didn't finish her education. Her father died when she was really young, so she grew up in a Buddhist temple. She did a spectacular job for us, cooking, working, cleaning, and raising children.
MG: So she has played her feminine role her whole life.
SU: She definitely was doing a lot of role-playing and my father was just a little bit abstract.
MG: What do you mean by that?
SU: I don't know how to explain it. I loved him, he was really supportive, but we couldn't speak English with each other and he avoided speaking about certain things. He was really funny. There must be some traumas he never dealt with that I never was able to understand. He came from a wealthy family. There are a lot of things that I didn't understand and still don't.
MG: Why didn't you try to investigate it better?
SU: Well he was a liar too, there was a real mystery about him. My mother was his second wife. He was in an arranged marriage before, a completely different world.
MG: Are you familiar with Korean culture or rituals?
SU: I am attracted to it. I haven't been to Asia yet. I must have a perspective that orientalizes Korea.
MG: Can you appreciate having different roots?
SU: I feel like an alien everywhere.
MG: Speaking about roots, your art doesn't seem to relate heavily to art history. It seems like you're attempting to defi ne yourself more in relation to the here and now than seeking an embeddedness in any form of art historical frame.
SU: There are multiple histories. Of course I do think about specific ways in which I see myself performing, or how I live my life. I relate to things that have a specific history and trajectory but maybe I wouldn't say that it is so linear. There are many things that I feel sensitive towards that are from the past.
MG: Could you name specific histories?
SU: I don't understand this first hand, but by living in New York I'm sensitive to the generation before me. People who were younger than me or nearly my age, those who have died from AIDS. I wouldn't specifi cally name names because there are many unknown and untold histories. I came to understand this legacy very intuitively. Being queer in New York, you cannot not think about that. I mean this applies to queer untold histories across the globe. I could be very much performing someone else's life and I wouldn't even know it.
MG: Your work is very diverse. Do you think that an artist today needs to have an overarching concept about his or her work?
SU: No. I don't think it is necessary. Branding is important, but I just like to navigate things in a very personal way and hope that I don't get too caught up. I think that if you can escape yourself that would be exciting, but I don't think anyone is really capable of that.
MG: Would you say that art is a way of life for you?
SU: I see it as a job. Many of us think of it as a job.
MG: Do you also think about your artistic practice in terms of a career?
SU: Sometimes. Some people are more healthy about it and more, like, carefree, some people are far more rigid, some people more psychotic. I would say I am like a paranoid schizophrenic. [laughs] My feelings change every day.
MG: Do you sometimes feel that you need time to develop your concepts and ideas in order to let them grow before presenting
them to the outside world? Do you think about the here and now versus the future?
SU: I think there are different formats for different ideas. Maybe this is the California part of me, so don't get me wrong. I don't know. Maybe in twenty years I won't be an "artiste" anymore. As long as the people who I really like and care about express affection, that is great, even if others remain skeptical it is perfectly fi ne.
MG: You don't see it as your job to change the system or to challenge something?
SU: My friend just posted a quote by Maya Angelo on his Facebook page. I "liked" it. The quote is: "I've learned that people will forget what you said, people will forget what you did, but people will never forget how you made them feel." I make the worst first impressions, but I hope people forget because, I don't know, I don't care, we'll see.