Should or Should Not Collectors Befriend Artists?
Published: March, 2017, COBO SOCIAL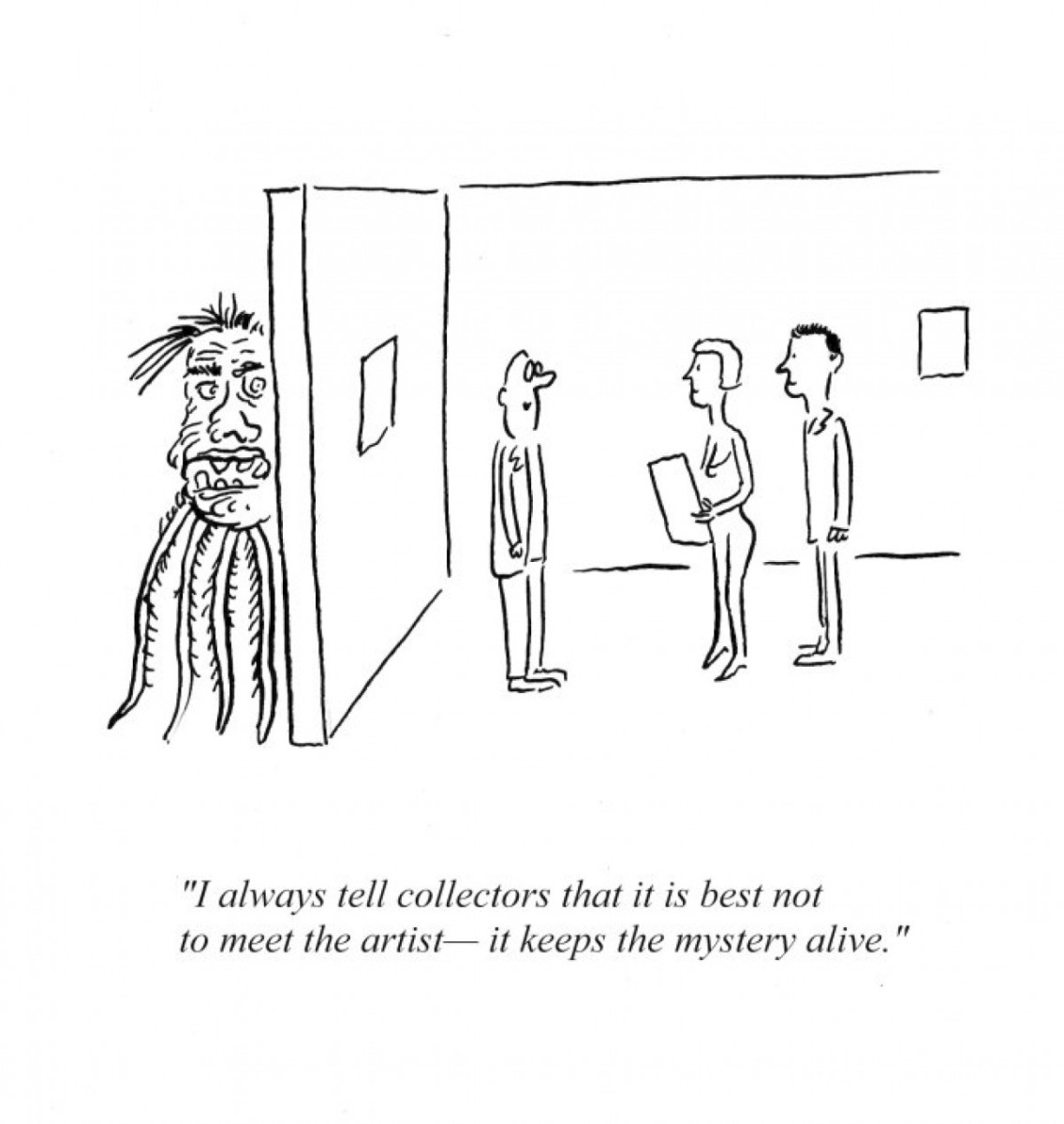 Meeting an artist in person can be tricky for collectors. Imagine you love X's work. You meet X at an opening and your conversation is a boring disaster. From that moment on, every time you look at her brilliant work that you bought last year, you recall her laughingly cliché statements about the world. At another opening, you meet Y, who is extremely exciting charismatic person. You spend a great evening together and have a wonderful exchange of ideas. The week after, you go to Y's studio where he is waiting for you with a bottle of wine. There you discover works that are so bad you wouldn't even take them home for free as a goodwill gesture.
A similar complexity applies to the other side of the relationship. Artists often experience the making of art as a tough creative process that results in an object they only give away to the world with great reluctance. The American artist Robert Longo told me recently that selling works feels for him like someone is taking his children away, with the gallery being an adoption agency tasked with finding the right parents. This emotional attitude, which most artists have with their works, means that they also anxiously judge collectors. They sometimes avoid them completely, sometimes treat them as necessary evil, but sometimes, they also enjoy them as best friends.
The relationship between artists and collectors is thus complicated. The collector Francois Pinault called this an unbalanced relationship: the artist is the creator, while the collector is only a "regardeur" (a term used by Marcel Duchamp), someone who watches, an active, useful, and necessary element in the art world, but not more than that. According to Pinault, a real collector has rarely, if ever, been the source of artistic inspiration.
Collectors who refuse to meet artists want to be completely clean in their judgments about works; any form of sympathy for the artist (or lack thereof) could possibly influence their opinion about the art. Nevertheless, the majority of collectors love to meet the artists in person, and hold them as inspiring creative spirits, social provocateurs or bohemians. There is, however, more at stake than having a good time together. A good relationship with an artist could mean better access to artworks — artists have a say in who the works are sold to — and also a source of inside information about upcoming exhibitions, other collectors and interesting moves of other artists. Access to desired works and early information are highly valuable in today's competitive and fast-paced art market.
The galleries encourage personal contacts between artists and collectors because establishing such a relationship works in favor of the primary market. When a collector knows the artist personally, the collector may feel more committed to the latter, may be inclined to follow his career and, at least temporarily, refrain from selling, because it is more difficult to explain when you are good friends. Preventing the reselling of works is a form of price control by galleries that is essential for building the position of any artist. Artists are not very happy when collectors resell the works, but what they dislike the most is selling the works through auctions. American artist Mark Bradford commented, "It's like your love letters that you wrote to somebody would be on the auction block. It is so personal and so private. I do not mind that people sell my work. You do what you need to do, but I hate the publicness of an auction."
The prices of works sold at auction often influence primary market prices: too low a price can discourage interest from other collectors in an artist, while too high a price tempts many collectors to bring their works by that artist to the auction block. After a painting realizes a record price, the auction house receives many telephone calls the very next day from collectors who want to sell their works by the same artist. Artist Mark Grotjahn observed that many collectors cannot resist the attraction of making a profit out of his works: "I guess it's what I signed up for. I'm just disappointed sometimes when one of the collectors who used to put an arm around me and say, 'I will never sell your work, not even for five million dollars, never,' sells my work. And then they don't want me to come over for Christmas because my painting is no longer on the wall because they sold it without telling me."
The temptation of financial gain can be sometimes greater than the urge to keep moral commitments to artists, putting friendships between artists and collectors at risk.
Drawings: Pablo Heguera