Pascale Martine Tayou
Published: July, 2011, ZOO MAGAZINE #32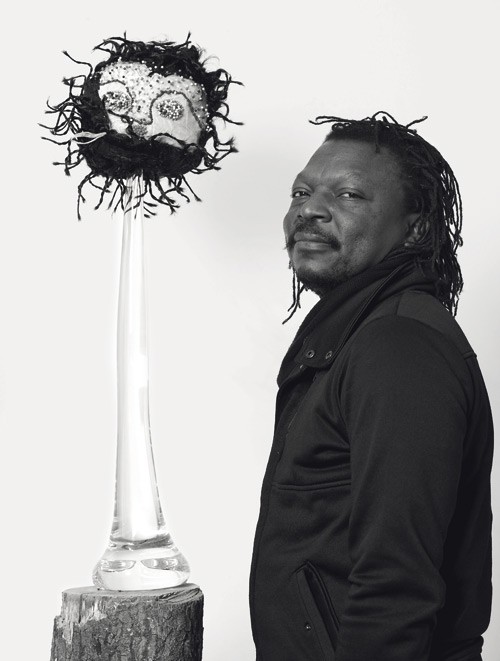 For Cameroon-born artist Pascale Marthine Tayou, art is a way of life. He plays with identities and challenges stereotypes by making objects and sharing his experiences with others. Tayou's exciting, eclectic installations and sometimes voodoo-like art defy clichés of post-colonial exoticism through intelligent approach, irony, and his enormous energy.
Marta Gnyp: You are an autodidact. How did you discover art for yourself?
Pascale Marthine Tayou: I don't know. I don't really know what the word 'art' mean. I'm just trying to enjoy myself.
MG: How did you become an artist? What made you want to become an artist?
PMT: People. I have always been trying to express myself, whether you call it art or not. In that meaning art is for me a way to survive: not only to eat, drink and sleep but to feel good, sharing stories and enjoying people. I didn't plan to be what I am today. I didn't put a lot of pressure to do what I like to do.
MG: When did you leave Africa for the first time?
PMT: Maybe 20 years ago? Or never, in my head I'm still in Africa.
MG: You are moving from place to place. Many call you a nomad. Why is being a nomad so interesting to you?
PMT: I don't have a specific plan. I'm following all the energy people are giving to me, so I go when I'm invited to share my experiences. I am a nomad because the others give me this opportunity. Moving through the world is a way of existence for me. I used to learn about foreign cultures before leaving my country from books and through my intuition.
MG: How was the confrontation between what you knew and what you saw?
PMT: I'm not a dreamer, I'm not easily impressed, I try to keep cool. If you are calm you can discover more. Through my objects and my expressions I have been slowly interpreting what I see.
MG: Your works don't make me think about slowlines, they are more like explosions.
PMT: This is why people see me like that, but I'm not losing my head very often.
MG: I read recently an article about Picasso and his first encounter with the African masks during the exhibition in Paris in 1905. It was a revelation for him, which according to him changed his opinion about what is art. It helped him to destroy the image and to build it in a completely new way. Did you have this kind of moments when confronting western artistic ideas that were new to you?
PMT: The difference between the guy called Picasso and me is that Picasso came to me; I never went to Picasso.
MG: You never wanted to go to Picasso?
PMT: Even though my predecessors were living in the bush, through my education and languages I have had the tools to understand the western world. I'm living simultaneously in both worlds; traveling from Africa to Europe is for me like traveling from city to city. My tradition is the human tradition. I was very impressed when I learned for the first time A, B, C, D, but these letters are a universal code. I have never dreamed of leaving my country; it was natural that it happened. Social topics like emigration have therefore no interest to me.
PLASTIC BAGS, 2001-2011, PLASTIC BAGS, 13 × 10 CM
COURTESY: GALLERIA CONTINUA, SAN GIMIGNANO / BEIJING / LE MOULIN. PHOTO BY: AGOSTINO OSIO, VIEW: TERRE VULNERABILI, HANGAR BICOCCA, 2011
MG: So how do you like to be labeled African Artist? In most articles, your relationship to Africa is clearly mentioned.
PMT: They use this label like a Coca-Cola label.
MG: Can you stand it that people see you as exotic?
PMT: I cannot control it. The most important is what I'm thinking and doing. I cannot fix the meanings given by someone else. I don't care. Although maybe I'm not as African as people think I am.
MG: I saw your biography on the website African Success, People who changed the face of Africa. Are you enjoying being part of this group?
PMT: I'm very flattered that people included me there and that I am visible to the others although it seems strange to me. Sometimes I receive newspapers that mention me as someone important to my country or to Africa, and I really wonder: what are they talking about?
MG: Is it because you have success in the West?
PMT: I don't feel this is only success. Maybe my way of looking at life is interesting; the fact that the human being is very important for me. If I don't share the best part of me with you I'm nothing, that's how I want to be. Of course it goes wrong sometimes but that's the core idea. I have the chance to live my life in my way. Money is a part of it but I could also use money differently. A friend sent me an email once and asked, "Maybe I'm stupid but I have to ask you—do you think that happiness really exists?" It took me two days to reply, "Happiness is something personal; I feel that happiness really exists but sadness is part of the happiness." This question you have to ask yourself every day.
MG: Are you deciding every day that you want to be happy?
PMT: Every day has to be a good day.
KIDS MASCARADE, 2009, C-PRINT MOUNTED ON DIBOND, 75 × 100 CM
MG: Have you never had doubts about your art?
PMT: No. I could sometimes doubt about a single work but not about my life. The only reason my works are serious is because I put a lot of energy and emotions in them. Making art is not more important than making soup, but if I am making a soup I put all my heart in it.
MG: Is your energy the reason why people are buying your art?
PMT: They are buying because of different reasons. Some collectors are very straight and buy the works because of the money they can earn. Some others collectors have their own system and a special relationship to the material and objects. They know what they want, they love art and often want to make business as well. Others are looking for a meaning for themselves. I love all categories. What I am doing is like playing soccer: there is this young guy making million of dollars but the only thing he is doing is running after a ball. But people are getting energy from him. He can save the world from terrorism for 45 minutes. So can the artists.
MG: What has been the most important show in your life so far?
PMT: The first appearance in my country, Cameroon, almost 20 years ago. People decided then to call me an artist. It was important for me to be linked with the world of art and artists, to go ahead. For that show I made objects that related to my daily life. I wanted to express my personal situation and a common situation for human beings. I was around 22. How to think about life? Is life looking for food and money? How to find my own place between the other people and how to relate myself to the world? I felt that there could be some stronger ways to talk about it. It crossed my mind that maybe I should do something nobody would think I would do. At that time I was an intellectual wise guy. I decided to abandon all normal conditions I was living in.
MG: Then you took this decision in one moment?
PMT: Yes. I decided to stop my previous life as a lawyer, to go to garbage to look for stuff for my objects.
MG: How did this radical idea feel?
PMT: The important question was: why am I here? Only to do my job and to become rich? I found the energy in myself to be different; I trusted that there could be other people like me. We are losing ourselves in a fake society. So I decided to break with that. Many people who knew me were in shock. I realized that I could change people around me but only after changing myself. It worked.
MG: Were you not afraid?
PMT: No, I was not happy before I took the decision.
HOME SWEET HOME, 2011, TREE TRUNKS, BIRD CAGES, CABLES, MICROPHONES, HAY, 700 × 800 × 800 CM, COURTESY: GALLERIA CONTINUA, SAN GIMIGNANO / BEIJING / LE MOULIN, PHOTO BY: ANDRÉS LEJONA
MG: Did you enjoy making art from the very beginning?
PMT: I discovered something exciting. We are not only living in a global system but we are the system. With my objects and the way I wanted to live I didn't intend to change the system but to give the opportunity to go outside its borders. To make people conscious that this is possible.
MG: In a hypothetical situation—which is not the case—if nobody liked your art would you continue?
PMT: No. My goal is to make people understand what does it mean to live together in comprehension. It is not easy to be what you are, to find a good balance between bad and good, sad and happy. To find this balance I'm making objects, sometimes physical, sometimes conceptual.
MG: Speaking about physical and conceptual: why do you use the plastic bag so often?
PMT: People relate it to the questions of consumerism and pollution. I want to talk about other aspects: why not use plastic bags for plastic art? I found it formally interesting. Working with plastic bags was a kind of laboratory, how to find the relationship between the lightness, the nature and the movement. I made the first outdoor installation using bags in San Gemiliano: the wind was blowing and you could see the movement of the plastic bags, a very strong work with a mix of beauty and ugliness. The blue sky made the total image look like a painting. The first piece I made was constructed from the bags which I found everywhere in the world.
MG: San Gemiliano is the base of your gallery. Do you have a gallery in Cameroon? How does the art scene function there?
PMT: I have no market relation to my country, only a spiritual one.
MG: What is your spiritual relationship with your country?
PMT: It is my laboratory. I grew up there; I have memories and images from Cameroon that come up without thinking. I used to look around, walk through the streets, look at how people behave, what they do. I was a street seller when I was young. My current production is full of these experiences; the street life is my inspiration, the base of my humor and the sense of irony about life. On the other hand, people look at me as if I were a window to Africa. What I try to show is that what you see is a trompe l'oeil, that there is something else behind.
POUPÉES PASCALE, 2010, CRYSTAL, MIXED MEDIA, ABOUT 50 × 15 CM, COURTESY: GALLERIA CONTINUA, SAN GIMIGNANO / BEIJING / LE MOULINPHOTO BY: PETER CARLSSON & JAKOB OLSSON
MG: What is your relationship to art history? You don't care to relate yourself to it?
PMT: I do, but not like a necessity. It is not my job. I don't pretend that I invent something new. Obviously, I need a relation to what has happened before me but I want to be pure. When I was in Paris for the first time with a good friend and we were passing the Louvre, he got extremely excited. I told him, "Why do you want to go there? I am the Louvre." Who has decided that the Louvre is the top cultural achievement? It is just that some cultures are evaluative and pushy. I just want to explain my world, to be free from whatever others want me to be. In every project I do I want to be arrogant, in terms of the intentions and the concept. Once I know what is possible I will always propose more. If you want people to remember, you trigger the impossible.
Pascale Marthine Tayou is represented by Galleria Continua, San Gimignano, Beijing and Le Moulin. www.galleriacontinua.com