François Pinault
Published: August, 2015, BLAU #3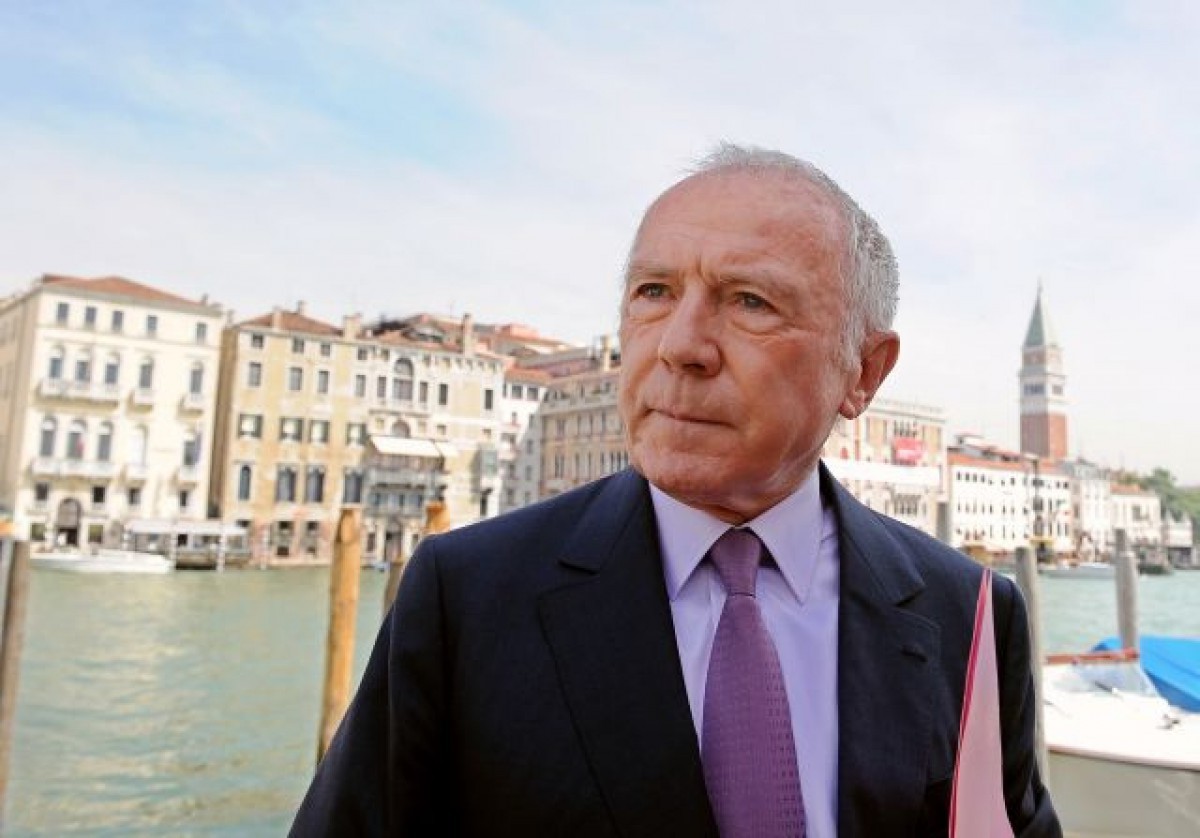 I meet Francois Pinault, the self-made French tycoon and one of the most important art collectors in the world, in his neo-renaissance hôtel in the center of the high-end fashion district in Paris. An energetic, elegantly dressed man welcomes me in his sunny office, immediately offeres me coffee and starts asking me questions. Time is the only luxury he is missing.
Marta Gnyp: Mr Pinault, I brought you two examples of the artist editions that the newspaper Die Welt issues once a year. Each special edition is filled exclusively with images made or designed by one selected artist.
François Pinault: That's a very good idea.
MG: I brought you the latest edition, which was made by Cindy Sherman and also the one created by Georg Baselitz. I heard some rumors, so I thought you might enjoy it.
FP: (laughs) Have you visited the Venice Biennale? Did you see the Baselitz installation there?
MG: I did. I know who bought it.
FP: (laughs) It is a very good piece. I bought it on the first day of the Biennale.
MG: Some critical voices complain that institutional exhibitions such as biennales have become great sales opportunities for galleries.
FP: It is very difficult to avoid this since you need to promote artists. There are exhibitions going on in the galleries, museum shows, not to mention art fairs all around the world punctuated by institutional exhibitions such as the Venice Biennale. At the same time, there are more and more art lovers who wish to own artworks. The only risk is that, in this context some people might be tempted into speculation, which is very difficult to fight. Fortunately it concerns very few artists, not all of them.
MG: Why has art become so important in your life? Is it a passion or an obsession or both?
FP: As a matter of fact, it's art that captured me. I come from a humble background and a tough region, Brittany, where art wasn't part of our daily lives. But somehow the Brittany forests, its coastline, its granite landscape have sharpened my sensitivity to things beyond the ordinary. The passion for art itself came to me later in life but in the meantime, more than forty years ago, when the development of my businesses gave me the opportunity to travel more often and to visit museums and art centers more frequently. Visiting exhibitions made me realize that I wanted to develop a more personal and intimate relationship with art, a relationship that over time became a real passion. Is this an obsession? It depends on your definition of obsession. If you take the word in its literal meaning, then the answer is, "No." Having said that, the fascination for art permanently sustains itself, grows, virtually never stops. So, yes, I am passionate about art or if you prefer an art obsessive with a constructive approach, I would say a committed man, in the true sense of the word.
MG: When was the first time that you felt attracted to an artwork?
FP: At the beginning of the seventies – I was visiting an art gallery when I saw a painting by Paul Sérusier that moved me. It shows a farmyard and the main figure reminded me of my grandmother. At first I thought my attraction was due to this anecdotal dimension, but then, there was something else. The more I looked at it, the more I discovered. In a way, this painting by Sérusier acted as a catalyst. This acquisition opened my eyes.
MG: What happened between the 1970s and 1991 when you bought the most expensive Mondrian painting ever for 8.8 million US$?
FP: I've always visited museums, galleries, and other art institutions. Gradually I've learnt to look properly at artworks. My eyes became trained so I could see the quality of this masterpiece by Mondrian.
MG: Why was this Mondrian so appealing to you?
FP: Actually, I was in New York to see a sculpture by Henry Moore when I came across this work by Mondrian that took my breath away. It's difficult to express with words how you feel inside in front of a masterpiece. I was literally struck. It's a well-known fact, passion is priceless. Even though it took me two hours to make a decision. From this moment I realized I could dream of a collection of very high standards.
MG: How did you start to realize this idea of creating an extraordinary collection?
FP: When I purchased the Tableau Losangique by Mondrian, I had this feeling of an epiphany only to realize quickly it was just the beginning of a big new adventure. I became aware of the fact that creation was not completed, that art still exists nowadays, and that, worldwide, artists produce enthralling work. Each discovery led me to explore new territories. I developed an interest in post-war American artists and that took me towards the art of my time and contemporary creative practices. I've combined paintings, sculptures, videos, photographs, and also installations coming from different tendencies and cultures.
MG: In 1980 you were at an auction for the first time; in 1998 you bought Christie's. Was it a business decision only, or were you emotionally attracted to an auction house and auctions?
FP: I live two parallel lives. My job as an entrepreneur and my job as a collector are two separate ones that never cross paths with one another. The acquisition of Christie's comes from the entrepreneur. In the art field, emotion is vital while in business it's usually seen as a suspicious feeling.
MG: Are you an auction buyer? Do you like gambling?
FP: When it comes to art, I visit galleries as well as auction houses and not just Christie's. In the same way, I check Christie's catalogues and those of other auction houses, but not only for contemporary art. No one can possibly believe that auctions are a form of gambling only because some "staged" public auctions use the spectacle, the suspense, and the emotion. There isn't much room for hazard.
MG: An auction is a place to create a price. Have you ever influenced the price of an artist's work through deliberately paying a higher price?
FP: I don't think auctions create prices. They are the proof, the photograph of the value agreed on by the market's art dealers at a certain time and based on a complex set of criteria.
MG: Many collectors follow what you do and what you buy. Do you see it as a responsibility?
FP: I do not want to impose my own choices on others. My purpose is to share my passion for art with as many people as possible. A true art lover makes decisions freely; he has to go beyond ordinary feelings determined by a special aesthetic to express his own aesthetic sensitivity. It doesn't make sense to want to convert someone to an aesthetic order. However, if you can contribute towards arousing people's interest in contemporary art, you've already achieved something. It's my one and only responsibility.
MG: You have carved out one of the most amazing careers in post-war Europe, building your corporate empire from scratch. What was and is the key to your success?
FP: Firstly, I don't like the term "success." It's just an illusion and doesn't mean anything. I come from a rather humble background. I went to boarding school, a religious high school attended mainly by bourgeois children who despised the peasant's son I was back then. On top of that, I wasn't into studying. So I left school early. I wanted to take revenge on all these people who had bullied me at school. I came back home very determined, resolute to do something with my life. And that's how I started my own business in the timber trade. I worked very hard.
MG: Did you ever take revenge on a person?
FP: Not really. I don't care about it any longer. With the experience of my life and my career I want to do everything positively and not in a reactive way.
MG: You don't like to think about the past?
FP: I feel in perfect harmony with my time. I believe that one must keep up with the times. We can't live by looking back on the past with nostalgia. The past is past and doesn't let you take any risks. The present and the future mean creation, boldness, and adventure. Of course I still doubt a lot. Because nothing can ever be taken for granted.
MG: How would you define the Zeitgeist of now?
FP: Uncertain, interesting, in motion. I'm very happy to live now. No nostalgia. The past is not better than today. Even the insecurity and uncertainty of our time is very challenging and exciting for me.
MG: Is this the secret behind why you are so strong and full of energy?
FP: I prefer to live today. There are so many things to be done, so many territories to explore, so many opportunities to seize… If your objective in life is to be a bourgeois and have a comfortable life, of course you might find it difficult now. But it has always been difficult.
MG: You have been playing with the idea of a private museum for a long time. First with Île Seguin close to Paris, then with museums in Venice. Why is having a private museum so important to you?
FP: Living with the works of art led me to question myself even more; it prompted me to break with the comfort of a routine, to reassess myself, to become more attentive to the world's developments. I'm fascinated by this conception of art and I'm willing to share it with those who want to.
MG: We are now facing a surge of private museums worldwide. Why do you think private museums have become so popular?
FP: I can't really answer for other people. As far as I am concerned, I very soon felt this desire to share the pieces of art I loved and collected with the public. This project could be realized in Venice in two prestigious locations: Palazzo Grassi and Punta della Dogana, completed recently by the Teatrino. They have been wonderfully restored and converted by Tadao Ando to suit contemporary art. It's not a static collection. On the contrary, it's a collection that tends to capture the living realities of this world turned upside down at an increasingly fast pace.
MG: Is visibility a very important factor for the importance of an artist and a collector?
FP: Obviously, visibility is important for artists, especially in Venice. But certainly not for an art collector. Every collector dreams of hiding behind the works.
MG: Your financial position is much better than the position many public museums are in. You can buy better works, you can act more quickly and more efficiently; you are not dependent on low budgets and the slow administration of public institutions. Do you compete with public museums?
FP: In my mind, there is no competition between a private museum and a public one. Quite the opposite, actually. I think there is a lot of mutual benefit in the coexistence of both public and private museums. As you know, there is currently an exhibition dedicated to Martial Raysse at Palazzo Grassi. This exhibition comes after one that was held at Centre Pompidou and to which I lent many works. The two exhibitions offer a journey and a perspective that complement each other.
MG: The general opinion – which I also share – about the Venice exhibitions this year was that your show _Slip of the Tongue at Punta della Dogana was better than the official Biennale exhibition. Is this not a kind of competition?_
FP: That is your opinion, which I presume is valid for one year… I would say that we complement each other. The Biennale is very inspiring and challenging for artists, curators, galleries… For all of us.
MG: Do you think that a private collector like you can write a different art history than a public museum?
FP: No one can claim a monopoly in the creative field. As you said, public institutions have to deal with many requirements, financial obstacles and also legal and regulatory procedures. The choice of works and their presentation in public museums are subject to a complexity of balance, but also a concern of impartiality and geographic interests. That's not the case at a private institution, anyway not at Palazzo Grassi – Punta della Dogana – Teatrino. My choices reflect my eyes, my interests, my commitments, and the risks I'm taking. There isn't any specific rule to apply, except to own a work I love. I am interested in young artists while still supporting the ones I've been following for a long time, like Thomas Schütte for example.
MG: Why did you choose the artist Danh Vo to curate your exhibition?
FP: From Marcel Duchamp with the 1936 surrealist exhibition to Andy Warhol or Mike Kelley or recently Maurizio Cattelan, many artists have acted as the curators of exhibitions. Asking an artist seemed to me an interesting way to bring in a new point of view on the collection. Regarding Danh Vo, besides the fact that I own many of his works, I was been very impressed by the way he had curated the Felix Gonzalez Torres exhibition in Brussels in 2010. I found his knowledge of space, his sensitivity, his ability to empathize with the work of other artists, extremely fascinating. I have to say, the result is beyond my hopes. He took possession of the space and the pieces to build a true work of art.
MG: Public museums complain that they need to attract visitors and therefore adjust their programs accordingly. Are visitor numbers also a consideration for you?
FP: I think that even more important than the number of visitors is the quality of the exhibitions and the cultural program on offer; also the relationship with the public: the reception, the educational and informational support, the cultural development, and the access for people unfamiliar with art or kept away for geographic, social, economic, or health reasons. It's our duty to maintain high standards. Nowadays, a museum must take all these factors into consideration.
MG: You are living in many places in the world, however, your activities concentrate mostly in two countries: Italy, where you have your museums and France, where the core of your business activities is based. What is your relationship to these countries?
FP: We live in a globalized world. With regard to art I'm not sure that thinking in terms of country is most relevant, a European label would be more appropriate. Whether one is in Italy, in France, or in Germany, we all belong to the same cultural European space. For example, look at Venice. Venice is not only an Italian city, it's also one of the biggest international platforms for art, one of the main places for meetings and exchanges, for a discovery of an art world which nowadays is more open than ever. What I especially like in Europe is its creativity and its ability to reinvent itself constantly.
MG: What about your artist friends? You are friendly with artists like Rudolf Stingel and Jeff Koons. Can you be on equal footing with an artist when you are a patron/buyer and they are artists?
FP: However intense, the relationship between the artist and the collector is not a balanced one. The artist is the creator, the collector is a "regardeur" to quote the term used by Duchamp. An active one, indeed a useful one, even a necessary one but that's it and it's fine this way. Even during the Renaissance, when artists were living on commissions and under the protection of their patrons, the most famous among them could still express their own vision in complete freedom. In my opinion, to assist artists in their creative process doesn't mean telling them which way to follow. Actually, it's the opposite, it is ensuring that their own personal artistic expression can thrive. A real collector has never or nearly never been the source of artistic inspiration. An artist has something to say or not. That's what makes the difference between a genius and another artist.
For me personally, I would say, I have a sort of companionship with the artists. By that I mean a relationship made up of friendship, complicity, personal respect, and admiration – obviously at various levels according to the circumstances and the personalities – but essentially and most importantly, a relationship built to last in the long term. This notion of loyalty, support, duration remains essential to me, more than proximity, especially in this age too often dazzled by the short-lived, the immediate, the sensational.
MG: You seem to like visiting artists' studios. Do you prefer to speak with an artist before you make an acquisition?
FP: I really like visiting artists' studios and I do it all year round in Europe, in America, in Asia. I enjoy meeting artists and speaking to them. My first interest will always be the work of art though, the emotion it provokes in me and the way it questions me. If there is also an affinity with the artist, then I am doubly satisfied.
MG: As a collector, do you look for masterpieces?
FP: Collecting is primarily observing, engaging, and making decisions freely. Of course, every collector has been inspired by precedents set by Shchukin and Morozov, whose discoveries fill now the rooms of the Hermitage Museum, as masterpieces from the beginning of the twentieth century. But history will have the last word. These are artists who created masterpieces. The role of the collector is to provide the means for these artists to create in complete freedom.
MG: You have been working with the art advisors Marc Blondeau and Philippe Ségalot. How important was their taste and advice in the forming of your collection?
FP: When you collect, you're always surrounded by advisors, if only to let you know about a particular exhibition or a work. Nevertheless, since I started to collect art, I've never purchased a work without having seen it with my own eyes. From very early on, I relied exclusively on my eyes. A private collector can afford this luxury and freedom. However, when organizing exhibitions based on my collection, I bring in curators or even artists themselves, who by following their own path help me discover new aspects of my collection. For example, this is the case with the exhibition Slip of the Tongue curated by Danh Vo at the Punta della Dogana.
MG: Your wife used to be an antique dealer; I understand that you have a great collection of eighteenth-century furniture. Is she involved in your contemporary collection?
FP: My wife is passionate about the decorative arts, especially from the eighteenth century. We enjoy comparing our choices and findings in our respective fields.
MG: You once said that you are all about instinct. Do you use instinct when you buy art?
FP: Instinct is my capital. A work either makes a strong impact on you or leaves you indifferent. It is a first impression that is naturally based on your knowledge of the history of art and that then asserts itself through your comprehension of the work history, the view of the artist, and his inspiration. An artist is full of ideas, forms, images. All that generates excitement, amazement, surprise, and sometimes rejection. Contemporary artists constantly challenge the artistic canon; hence the interrogations that require an additional perspective. This applies to all masterpieces. A work of art can't be reduced to its aesthetic elements. It must arouse a critical mind.
MG: I'm still interested to know more about the way your instinct works.
FP: Like for everybody, instinct is the arm that fights for survival. I love or I don't love something or somebody. Rationality is for business.
MG: Is art not part of the business?
FP: If you think about the art market then of course, but if you forget the art market and concentrate on the work of art, then your instinct is essential. When you see a painting you know what it does to you. It is true also that if I happen to appreciate a work too quickly, I am aware of the danger, because art can be very seductive.
MG: Are you sometimes seduced by pictures of art on the Internet?
FP: I don't buy from the Internet, really, though I have made some smaller purchases. It is better to see the works of art in a gallery or in the artist's studio. I don't buy from mail-order companies. [laughs]
MG: Do you think that new media changed the art world and made it more global?
FP: The term "globalization" is overused. It often implies standardization. I prefer the concept of multi-centrality, which makes the period we live in exciting. The world of art doesn't revolve around a single location or a few places anymore – like it was with Paris and New York in the twentieth century – but around many centers, interconnected art scenes. The new media have accelerated this phenomenon.
MG: Do you believe in the distinction between good art and commercially successful art?
FP: The power of a work of art is the result of an expression free of obligation to be useful. The art lover decides freely and acts regardless of the tyranny of the moment, even if sometimes choices and desires for some people are influenced by the market. This has always been the case. From painters' guilds through Academy juries and now the art market, there have always been some official bodies of recognition. But their judgments have rarely made the history of art. The artistic merit of masterpieces, which today form the core of museums, was hardly acknowledged by official bodies in the time of their creation, the same could be said about prices. The quality of the work remains essential; its commercial success is contingent.
MG: Do you sometimes sell works from your collection?
FP: Yes of course, it happens. As I've said, my collection is in constant evolution; it follows new trajectories, while leaving behind others of a lower priority, which leads me to sometimes part with a work. Unlike public museums, which can't sell their collections, at least in France and most of Europe (and that's fine this way). This capacity to always question oneself is a characteristic and if it's done with accuracy, an asset to private collections.
MG: Would you agree that collectors are among the winners of the recent transformations in the art world because they have become very powerful? Is art collecting about power?
FP: If it were the case, it would be extremely sad and uninteresting. Collecting is a complicated passion, fuelled by feelings and various desires, "dosed" differently depending on each personality: aesthetic pleasure, intellectual curiosity, the desire to live fully with his time, the wish to be part of the creation process by supporting artists. We could, of course, also add economic and social satisfaction, but it would be a parody if only these two mattered.
MG: What do you think about the often-heard categorization that a good collector is interested in art, while a bad one is interested in money?
FP: This does not make sense. The morality of the art world is a complicated matter. The only thing I can say is that collectors are no saints.
MG: In the time that you have been the owner of Christie's, the auction house has become very powerful. Christie's nowadays is not only about auctions; it organizes curated exhibitions with very high-quality works, such as the portrait show that is on in London now. Christie's makes private deals, which used to be the specialty of galleries and dealers. What do you think about such a power concentration in one single organization?
FP: With regard to the curated shows it is a good initiative. More generally, it is not about the concentration of power. A company must constantly evolve to adapt to the world in which it operates. Otherwise it will disappear.
MG: Even if a show is not for sale it allows the auction house to engage in a different way with collectors and to strengthen their position by displaying the high quality of their works. Does this strong position disadvantage galleries and dealers?
FP: For good galleries this is not a problem. You have to be the best. We don't know what the future will hold; maybe the Chinese will take over everything…
MG: Do you think that there should be certain limits to art? What do you think about the expansion of the Louvre to Abu Dhabi where a big part of art history will be excluded because of the prohibition of nudity?
FP: Of course it is a pity. Art must be approached in its entirety. However, it takes time to get used to it. You cannot require the same degree of comprehension from everybody. Therefore I think that we shouldn't be radically judgmental.
MG: Should we have moral rules that are applicable to art? Is art allowed to offend people?
FP: Artists don't produce works to offend people; this would be ridiculous. I love freedom and consider it to be the most important aspect of my life. At the same time you have to respect the beliefs and faith of others. Artists whose work shocks for the sake of shocking are not interesting. Provocation is only interesting when it serves a purpose, when it is part of a bigger picture.
MG: You dropped out of school when you were fifteen and served as a solider in Algeria; did these experiences somehow influence you?
FP: They taught me the virtue of perseverance, the price of life, and the power of solidarity between human beings.
MG: Did you ever consider going into politics?
FP: Never. A political career requires expert knowledge of the art of compromise. This is incompatible with my uncompromising character. If I had made such a choice I would likely have been a mediocre politician.
MG: If you think about your life – you left your village to join a small city, then you left your region to come to Paris, you have built a business empire – how much have you changed as a person over the years?
FP: Do we really change? What I do know is that I still have the same drive and the same desire to do something.
MG: You have rented Punta della Dogana for thirty years. What is going to happen afterwards?
FP: Obviously that's a very important matter. I suggest we talk about it when the time is right, for example in thirty years!