Flippers, hypes and museums
Published: September, 2020, TRANSLATION OF THE ARTICLE FOR FINANCIEEL DAGBLAD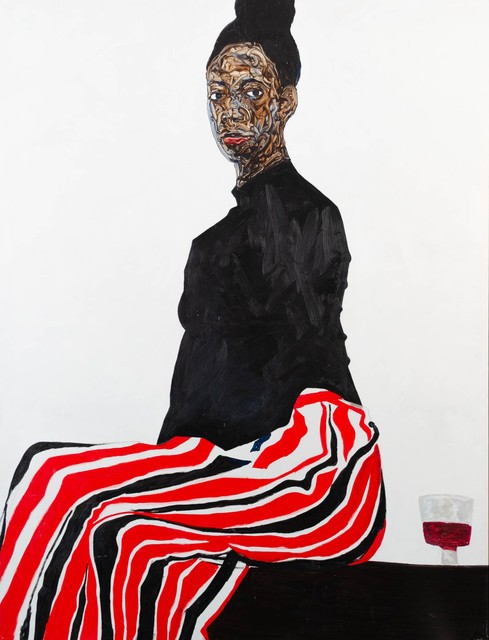 The word of the year 2014 in the art world was "flipper". The term originates from the real estate and describes a person who buys an object just to sell it quickly for a profit. Of course, works of art were already flipped before 2014; in that year, however, flipping became a striking phenomenon that was widely reported in international media. Most of all, it was about quick profits related to a specific genre of young art, which later got the rather derogatory name "zombie formalism": quickly made abstract paintings that were created using sometimes special painting processes and often flirted with cool street art. Lucian Smith painted with fire extinguishers, Dan Colen with bird droppings and chewing gum. Ned Vena used vinyl instead of canvas, David Ostrowski nonchalantly sprayed blue lines on roughly treated surfaces. These accessible and cheerful canvases did (and still do) very well in a modern interior and suddenly became much sought after. Works that cost between € 10,000 and € 20,000 in the gallery often fetched hundreds of thousands of euros at auctions. Ostrowski's 2012 painting F (Gee Voucher) sold for € 213,000 in 2014, while Smith's Two Sides of the Same Coin (2012) was auctioned for € 270,000 in the same year.
These prices were difficult to explain, as the artists had little meat on the institutional bones. Nor did they have an artistic career that could justify such a market position. As you can imagine, two years later many of these works were dumped with alarming losses. Ostrowski's paintings now sell at auctions with pain and effort for € 10,000 to € 30,000, much lower, incidentally, than at his gallery Sprüth Magers, which may have jumped on the hype too soon.
I am often asked whether the current trend of young black figuration that I wrote about earlier (FD, June 9) also awaits such a bitter end. I suspect this hype could end, at least for some artists, a little differently. Not only because of socio-political motives that play an important role in valorization of such works; there is another substantial market factor that distinguishes this trend from the other hypes, namely the participation of museums.
It's no secret that Western museums have hardly collected works by artists of colors from the past. The United States is the largest art market (with 44% of the art market turnover in 2019), and therefore determines trends. In the US, the African American population occupies 13%, but this ratio is not reflected by the museum collections. These mainly consist of works made by white men. History cannot be reversed: yes, the system was unfair and has hardly produced any artists of color in previous centuries. That is a fact, however, and as much as we would like it, we cannot discover any new African American masters of the 18th or 19th century. They just weren't there. There are, however, many post-war artists who have built up serious oeuvres. And, of course there are the young talents who are now fervently exploring their black identity. Many museums do not want to miss this boat. Not surprising, then, that a work by the art market darling, Amoako Boafo, whose paintings are flipped back and forth, has recently ended up in the collection of the Guggenheim Museum in New York.
AMOAKO BOAFO JOY ADENIKE, 2019 ACQUIRED BY GUGGENHEIM MUSEUM
A unique situation has arisen in which collectors and museums compete with each other for young artists. Stories about the Metropolitan Museum in NY or Tate in London seeking to acquire paintings by relatively unknown young African American artists reinforce the hype. Since they are true stories, they add to the scarcity. Museums have always been a silent force in the market; what seems to be unusual now is their need, or perhaps the urgency, to close the gaps of social diversity in their collections before an artist receives solid critical acclaim. What makes this situation even more exceptional is that museums sell older works from their collections to finance the new acquisitions related to diversity. In the past deaccessioning was generally condemned. Sales of works from public collections were seen as a breach of the integrity of a public institution: after all, it has an obligation to watch over the collection. Art works in museum collections were seen as 'dead commodities': although they once functioned as market objects, they would never enter the market again.
This idea is now somewhat turned upside down. The financial damage that the corona situation has caused in the art world makes the transition to a flexible approach to the collections easier; recently, the Association of Museum Directors in the US allowed sales to cover new purchases and ongoing costs. So, in October, the highly respected Brooklyn Museum will sell 12 works from its collection, including Lucas Cranach's Lucretia from 1527 at Christie's in New York, to purchase – you guessed it – works by women and artists of colors, among other things. For the same purpose, the American Everson Museum sells the 1946 painting Red Composition of one of America's greatest heroes, Jackson Pollock. After all, being a white male artist turns out not to be such a good idea.