Elmgreen & Dragset
Published: June, 2022, ZOO MAGAZINE #36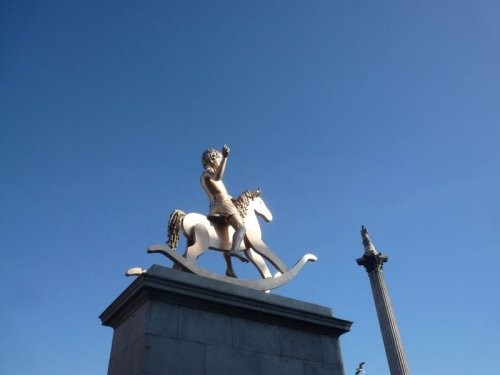 We are sitting in the Café of the National Gallery in London looking through the windows at a spectacular sculpture of a young boy overlooking the Trafalgar Square, the new work by the Scandinavian Duo Elmgreen (Denmark)
and Dragset (Norway). The work is a part of the prestigious Fourth Plinth project launched in 1998 by the City of London: every 2 years a contemporary artist chosen by the jury fi lls the empty old plinth on the square with a new art work, which stands between other classical statues of famous men led by the Admiral Nelson. Elmgreen & Dragset challenged that expectation by placing on the plinth a bronze sculpture of a beautiful golden boy on his rocking horse.
MG: How was the reception of this work in the UK?
E&D: We were surprised how well this work has been received, taking into account that the British press is known for their sharp criticism and preferences for scandalous aspects of any public work. The work functions well in the public square and it is critical at the same time.
MG: Whose idea was it?
E: When you have been working together as artists for about 20 years, you have created this sort of a new third persona: I'm not this artist, Ingar is not that artist.
MG: You present yourself as a duo, which means that you have chosen to keep your own identities.
E&D: We say that we are two happy monsters. We are not one artist because we don't do everything together; we have different tastes and like very different things. Look at our clothes, to give you an example. (Michael wears a black leather jacket while Ingar sports a blue pullover with big dots.)
MG: You started to work together almost by chance, as I understood. When you met 20 years ago, Michael was the visual artist and Ingar was experimenting with the theater.
E: I didn't really come from visual art, but was writing poetry, and when you are writing poetry in a language like Danish you should be aware that you won't have a big audience. I wanted more.
D: None of us has a visual art background. So first thing we did together were performances.
MG: What language did you speak?
D: Danish. I was already living in Denmark and speaking this language when we met.
MG: How come it worked out so perfectly well?
E&D: Firstly, because we were in love. We have chosen to work together because we wanted to share. There was this special attraction and the realization of being soul mates that has never disappeared. Even when our relationship came to its end, this strange understanding stayed; maybe this is something on the unconscious level.
MG: How did you manage to work together after your break up?
E: I would put it the opposite way: we managed to break because we knew we could keep working together; it was thanks to our work that we dared to break. Many couples stay together because they think if they break up they will lose each other forever, not just their future, but also what they shared in the past. We knew that we were soul mates – artists on the practical, intellectual and emotional level. That was absolutely important when we thought, "let's do something else with our lives."
MG: Did you make a work about your breaking up?
D: We did; actually two works. One is Marriage and the other one was Just a Single Wrong Move, an animatronic sparrow for the show at Tate Modern we had at that time. Coincidentally, the curator was going through a break-up as well. So we were sharing the most amazing creative process, making this naturalistic-looking dying sparrow together, working in huge empty spaces of the Tate, looking across the impressive Millennium Bridge, hanging around in small restaurants and bars, and crying. The three of us got a very close relationship.
MG: Let's go to the very beginning. In 1997, you started your Powerless Structures, which you have been making until today. This ongoing series is about challenging the social power structures that determine the life of all us, or more precisely, it intends to investigate the space in which meanings are constructed and functions are fixed, eventually with all sexual and social connotations related to it. Your first works were about the art institutional context and the gay world, two environments where you were active. Regarding the institutional context, you made works about gallery space, gallery activities, art transport, collectors or even the color white. Why did you choose to start with bashing the white cube?
E&D: We didn't come from the art world. We were strangers and a lot of things appeared very weird to us. When we first time came into a gallery in New York, someone was sitting alone in a huge silent white space behind a desk with a computer, looking unhappily at us because we were not the kind of persons they expected. We wanted to rework all the characters we met and address the format of the white cube gallery space that is the same everywhere in the world.
MG: You turned to the art world and you were surprised by what you saw.
E&D: We were wondering how it works. We wanted to test structures and formats.
MG: Did you have the impression that your Powerless Structures challenged anything?
E&D: We challenged the structures by already putting the question, by showing the authorities we didn't accept, by making processes visible. We were transferring the whole buildings including their architecture, defying the white canvas as much as provoking the audience. We were interested in what kind of meaning art generates.
MG: You tested it for yourself. Did you also have the idea that the public reacts to it?
E&D: The task of the artist is to provide a platform for a dialogue or discussion, in which the audience is given the possibility to integrate the concept. If you break their expectations and challenge obvious interpretations, some would love it, some would hate it, some would ignore it, and some wouldn't notice it. You cannot save lives by making art; you can do it as an aid worker in Africa but not as an artist. Yet you still might change a lot, not by forcing changes, but by providing a possibility to open up someone's mind.
MG: As artists, you positioned yourself as well between other artists. For the Skulpturprojekte Münster in 2007, you presented the theater play Drama Queens – a play without actors, but instead, with the classic modernist sculptures made by Giacommetti, Arp, Hepworth, Lewitt, Rückriem, Warhol and Koons. Did you want to get in contact with the icons and position yourselves between them? Or perhaps above them?
E&D: The sculptures were copies of existing famous sculptures; it was a play in which the sculptures were not only talking about themselves but also telling the stories about each of the artists. We were not making fun of them but by using comments by the artists themselves, we were talking about the reception of the works.
MG: Using those artists and letting them play the roles you designed for them, you could manipulate them.
E&D: It was important to use works which the audience could easily recognize – sculptures made by big names. It is not about putting ourselves in a powerful position, although we are competitive. But it was more about relating ourselves to certain power structures in the art field.
MG: Another artist whose works you were analyzing was Lucio Fontana, in the series Italian Treasures. Was the intention here to mock his spiritual gestures?
E&D: Also here we wanted to address the reception of the artist and especially the notion of the sublime.
E: I do not believe that there is such a thing as the sublime. I think it is made out in the course of the history of art. This is a romantic approach that perceives art as a phenomenon being elevated above the normal being. I see art more down to earth: confronting, seeking contradictions, and de-fixing codes. I'm not a medicine man; I'm not a shaman.
MG: Your aversion towards the sublime could perhaps be one of the reasons that you are using a lot of humor. You have been using this kind of Duchampian approach, playing games with visual associations and meanings condensed in the text. I assume you both share the same sense of humor. What about the public? Is your humor understood everywhere?
E&D: It depends. In the Scandinavian countries, the audience watches but keeps the distance. The British public seems to understand it very well; it seems that we like the same kind of humor. The humor as we use it, as instrument to make people want to be engaged in the more serious topics, could be sometimes very loud and intended to make noise, sometimes more coded. But in any case, it needs to be readable. If you don't have associations yourself, then the work would be only a sculpture. There is a story behind every work.
MG: A serious humorous work was Short Cut, a petty bourgeois white car with the caravan that crashed into the concrete. You installed the work among others in the bombastic shopping arcade, Galeria Vittorio Emanuele in Milan; the car and the caravan, the two elements of middle class status, couldn't be separated even after their death. Do you dislike middle class taste or bourgeois values in general?
E: Not at all. More than this, I think the lower middle class and what used to be the working class are nowadays people who go for things they like; they have their idols and ideas, they are able to enjoy life in an honest, more free way. If you see how those girls in London or other cities can party, you would be jealous.
MG: Do you mean they don't search for cultural mediations and metaphors?
E: Yes, they just do things they like.
MG: Let's talk about the second important path of your work, which is the field of homosexuality and the power structures in relation to this specific social group. I read your interview with Hans Ulrich Obrist from 1998, where being a gay and positioning yourself as a gay in the art world was one of the main subjects of the interview. Is it still an important motive when thinking on art and your own identity in the art world?
E&D: We think so. Many things have changed since then and need reconsideration. We are of course a bit spoiled living in Berlin and London – very liberal places for homosexuality. But there are still old and new issues that need to be addressed, like is it necessary to take over the heterosexual practices – for example, a marriage – to feel equal?
MG: For you as artists, is homosexuality still an important point?
E&D: For human beings and for artists, the position of gay has changed a lot. We need to discuss what the gay identity exactly is. As from 2006, we have been taking photos from different locations around the world. When we are travelling, we not only visit art galleries but also gay bars and many other places where we can sense the culture of the place. This has resulted in about 700 shots that we have framed. They show the gay culture from different perspectives and demonstrate that there are always things that they are changing.
MG: Do you mean that it is necessary to confront the public with the gay subculture because you think that the public should be educated?
E&D: The gays should be educated. Also, I assume that even if these works deal with gay issues, people can transform the topics into a universal context dealing with existential issues. Being European, we don't belong in the same way to a community as we did before. We mix our identities, which is of course liberating, but it might be in conflict with your real life situation.
MG: You are suggesting that we are choosing identities that suit us in a certain moment without necessarily the connection with the life we are living.
E&D: If you see how people present themselves on Facebook, it has nothing to do with how they live. People identify themselves with influences they have from all information. This is one of the reasons celebrity culture is thriving.
MG: Does celebrity culture influence your lives as well?
E&D: We don't think we are celebrities. We are known in a very limited circle of people.
We have never been recognized on the street. Maybe in certain gay bars. On the other hand, if Damian Hirst would walk in Rotterdam, probably there wouldn't be a lot of people who would recognize him either. The artist is another category of celebrity.
MG: Were you happy to win the commission for Gedenkort für die im Nationalsozialismus verfolgten Homosexuellen in Berlin? I imagine that you were very honored to make this work, though there could be the danger that you would be seen as the front men or a brand for gay artists.
E&D: Absolutely. During the whole process, we were stressing that this is about the gay monument and that we are not representatives of the gay community.
MG: Why did you choose a kiss as the main topic of the work?
E&D: We wanted to show an explicit gay kiss because this work is very much about acceptance. It is much easier to accept gay marriage as a social fact than to accept two gay men kissing each other on the street.
MG: How was the reception from the gay community?
E&D: It triggered plenty of discussions and it turned into a very political debate, more political than artistic.
MG: You also drew a lot of attention with another earlier project, in which you engaged yourselves with fashion. In 2005, you made the work Marfa Prada, which you called pop architectural land art project, again a kind of ironic dialogue with the art historical context. It was a minimalistic Prada shop dropped in a Texan desert, full of Prada shoes and bags but standing lonely in the middle of nowhere. What did you want to achieve with this project?
E&D: It started already in New York when we installed the shield, "Prada, coming soon" in a gallery window, referring to the proliferation of designer shops and the gentrification of artists' places in Chelsea, which forced the artists to move somewhere else. It provoked many reactions, also from the non-profit Art Production Fund that was prepared to finance the project Marfa Prada. One of the aspects this work shows is that the structure of fashion retail needs the right context.
MG: A comment on the meaning of things in general? Were you surprised by the popularity of the project?
E&D: Yes, and also very happy about the attitude of Prada. Although they understood the critical potential of the work, they were very supportive of us. Miuccia Prada is a very intelligent person.
MG: Another fashion item that appears in your work very often is jeans. Why?
E&D: Jeans have a long history. This piece of wardrobe is very much linked to the working class ethos. When manual work started to disappear and lose its value, the middle class slowly incorporated the workers' clothing – like blue jeans – into their culture and sexualize it. Then it became a part of the gay structure. For example, in the drawings by Tom of Finland, you see them everywhere.
MG: Does the gay community associate jeans with gay culture?
E&D: Yes. They are part of their aesthetics.
MG: In one of your recent series, you put jeans and t-shirts on classical sculptures.
E&D: It was again about or against the sublime, because those classical sculptures are considered as extremely sublime and noble. But they are exceedingly eroticized and made as a real lust object, although you don't see it if they are naked and put in the public space. But as soon as they have some clothes on, they become really pornographic; the opposite of the classical ideas.
MG: You position yourself against historical art notions like the sublime and the requirements of classic art. What about the new direction of art? What is the avant-garde in our time?
E&D: Is there an avant-garde? If any, the avant-garde is basically within the technological field like the Internet.
MG: Do you think the future direction of art lies in the new technical possibilities? Since the 70s, we have been talking about contemporary art. Do you think something is changing?
E&D: Art is on the one side part of the mainstream of our time, at the same time an activity, which is not made according to the principles of efficiency and quick outcome. And we are about to have a society where these values should be more present. We simply don't need all this work. It is not plausible to think that we can provide work for everybody and that everybody can contribute to society in an efficient way.
MG: The principle of the uselessness of art could be used as an instrument to fulfill a social role for art.
E&D: Art reminds us that we can do something that doesn't need to be useful. The artist is not meant to fulfill many social tasks; art is not about providing everyday social services. We are often asked to do social activities but we often say no. There is research that tries to measure the direct influence of art on human happiness or social situations, i.e. how much less violence do you have in a neighborhood of galleries? All these studies try to prove the relevance of art but it is not what art should be about.
MG: How do you work? Michael lives in London, Ingar in Berlin. You have galleries in several places around the world.
E&D: We have a really amazing studio in Berlin, in Neuköln. Our team of people organizes many aspects of our work. We like to control things ourselves and divide our time between Berlin, London and other places in the world.
MG: How many people are working for you?
E&D: Seven. It is not a huge studio, since in each case we are working with specialized workshops such as foundries.
MG: What are you making yourselves, except of course, thinking, developing and controlling the concept?
E&D: Firstly, we make these horrible sketches; the people in our studio are used to them so they know what to expect. We create the concept and control every single modeling and the whole production process. For example, it took one year to make the sculpture on Trafalgar Square.
MG: Why so long?
E&D: Because the process of the bronze cast is extremely time-consuming and demanding: you need to work with positives and negatives many times; you need to put all parts together, scaling up. We changed the face many times because it had to be very sweet. And of course, sometimes we face nightmares. It is hard work to make it happen the way we want it. It requires extremely specialized processes.
MG: You want your works to be perfect?
E&D: It would be nice to have less fear. You never make only perfect objects. It is better to make ten works of which three are good, than three works of which one is good. You need to make failures sometimes and show those failures in public; this is quite liberating. We are humans and we fail. Sometimes you make something outstanding and sometimes not. We should allow ourselves to fail in order to try to make a success.
D: Not that we consciously put the failure on display; we see ourselves what is strong and are severe critics to ourselves.
MG: Do you think your upcoming show will be a success?
E&D: Yes, it is again something new. It fits in with our thinking, which demands to criticize the power of structures. You need to be new time and again and not stay in one place.