Angel Otero
Published: January, 2011, ZOO MAGAZINE #31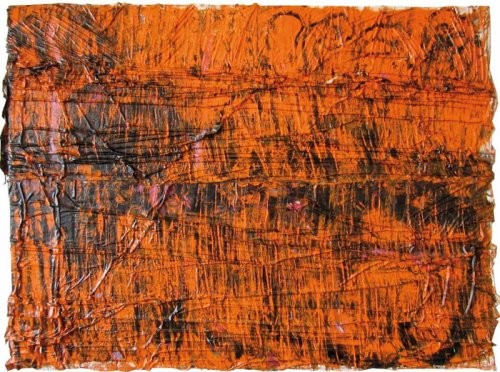 In his famous essays on modernist painting, Clement Greenberg proposed modernism as the ability to self-criticize a discipline by the use of the characteristics of the discipline itself. According to his theory, each artistic medium should confine itself to its unique and irreducible notions and to divest itself of everything that might share with other media. In Greenberg's view, the exclusive condition for painting was its flatness.
Now, this rigid catechism seems rather impractical today, but as a theory, it remains an important point of reference for many artists. Thinking about what painting actually represents, and how an old-fashioned medium that's been declared dead so many times can be developed further, is a tempting challenge for contemporary artists. Young artist Angel Otero (1981) is one who tries to experiment with the medium and its qualities in an original manner. Born in Puerto Rico to lower-middle class parents who had no artistic interests, Otero made his journey towards art against the odds. Like his father, he worked as an insurance seller after graduating. But unlike his peers, he painted and drew whenever he had any free time. Then he won an art scholarship to study in Chicago. Otero quit his job, his family and his friends, and moved to the Windy City to dedicate his life to his passion. Today, Otero lives between Chicago and New York. His fascination for painting as a medium, and painting as the carrier of art history, shines through in his colorful and expressionistic canvases. Like Willem de Kooning, Otero's paintings oscillate between abstraction and figuration. And like his hero Jackson Pollock, his works qualify as process-based art. Otero joyfully plays with Greenberg's concept of flatness by making surfaces tactile and almost three-dimensional, treating the paint like flesh. The assemblage technique is a gesture of generosity, as if Otero would like to include rather than eliminate.
Although Otero's canvases look like the output of a spontaneous and wild expression, in reality, his method is time-consuming and precise. He begins by painting on a huge glass surface that he then lets dry for weeks. When the oil paint is nearly dry, he then carefully peels it off and transports it on to a canvas (with the help of assistants), where it is then adhered onto a layer of resin. Thanks to this process, the texture of the canvas is transformed from pure linen flatness into something ribbed, curved and thick. Otero then fills the image with new elements, 'repairing' the fragmented paint with new layers and adding new objects and sometimes text. The element of chance extends to the final skin of oil that is applied. Of course, acrylic paints would be a much simpler choice for Otero. But he chooses to use oil to continue the dialogue with art history. Challenge is a keyword for this ambitious artist, whose parents still cannot believe that someone would pay money to buy his works.