Bruno Brunnet
Published: September, 2014 in ZOO MAGAZINE #45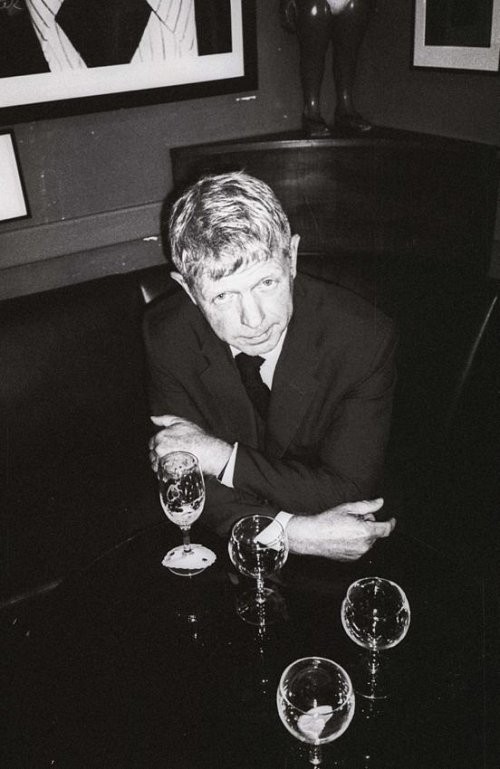 The German gallerist Bruno Brunnet has been one of the prominent free spirits and striking personalities who has defined the artistic and open image of Berlin over the last three decades.
Marta Gnyp: You were not born in Berlin – what brought you there?
Bruno Brunnet: I moved to Berlin in 1979 to be with my girlfriend of the time.
MG: What did you intend to do?
BB: I studied economics for a bit but found it very boring. I very quickly discovered the Paris Bar, though, and went there quite often because it was something I hadn't seen before. There were only a few little tables, interesting people, and a beer cost 1.25 DM. At some point I was completely broke so I started to work as a part-time waiter at the Hotel Kempinski, which was around the corner from the Paris Bar. The rest is a combination of coincidences: a waiter working at the artists' bar Exil in Kreuzberg broke his leg, the owner of Exil bar happened to be the partner of Michel Würthle who ran the Paris Bar and whom I got to know the night before the interview for the job.
MG: What happened that night?
BB: I went to Café Einstein for a performance, Martin Kippenberger's Slaves of Tourism: the first performance I attended in my life. It was about Kippenberger's trip to America: he was lying in bed projecting slides onto the wall and telling the audience his comments. In Germany you have the so-called Diaabend tradition. Friends have beer, sausages, and cheese crackers and watch slides from their holidays. Kippenberger was making fun of this German habit.
MG: Exil was a famous artists' bar at that time. What was so special about it?
BB: It was founded by the writer and artist Oswald Wiener and his wife Ingrid Wiener. Wiener escaped a jail sentence in Austria after a happening in 1968 at the University of Vienna, for which he was accused of blasphemy. He came to Berlin instead and in 1975 started Exil, which was quickly inhabited by the art world.
MG: Working there was a way for you to become an insider in the Berlin art scene.
BB: I got to know painters such as Helmut Middendorf, Salomé, Reinhard Fetting, Bernd Zimmer, and Markus Lüpertz, as well as Dieter Roth, who for example was served free food and drink for his lifetime because he was a good friend of Michel, Oswald, and Ingrid and had made a beautiful "beerflower"-wallpaper for the restaurant.
MG: Was Exil the place for the cultural elite of the time?
BB: I think so, but for me it was simply crazy. Berlin at that time had no closing hours and my colleagues used to go home at one in the morning leaving me as the youngest staff member to take care of the bar until the last guest left. So I talked to people, drank with them, and listened. Many artists had problems paying their bills even for a few bears.
MG: Did you get involved in art through these conversations?
BB: Yes. In April 1980, Salomé, Middendorf, Fetting, and Zimmer had a show in Haus am Waldsee "Heftige Malerei". They were in the bar every night before the show. I went to the opening, which was great, although I didn't know much about art at the time.
MG: What did you discuss with them?
BB: The punk years were more or less over but the punk influence was still present. We would talk about music, as there were always interesting concerts. Film was a big subject as well.
MG: Did you have any idea that something was in the offing?
BB: One Sunday evening Fetting came in and ordered a bottle of Dom Pérignon – a very expensive champagne. I started to laugh at him because the weeks before he had been completely broke and didn't even visit the bar often since he couldn't effort a beer. But he took a thick pile of DM bills out of his pocket and told me the story about the famous dealer from Zürich, Thomas Ammann, who all of a sudden knocked on his door, went to his studio and bought more or less everything.
MG: Was this the beginning of the Neue Wilden hype?
BB: Something crazy started. It changed from one day to the next. Important art dealers came to Berlin in search of artists: Thomas Ammann, Bruno Bischofsberger, Mary Boone and Barbara Gladstone. They went to artists' studios and because most of them were just a ten-minute walk from Exil they would often have dinner there. To go to the Paris Bar you had to drive to Charlottenburg, which was further and more upmarket.
MG: How did international dealers find the artists? How was the Berlin scene connected to the world?
BB: There was an important independent curator, Christos Joachimides, collectors like Heiner Bastian or Reinhard Onnasch, who also had galleries in New York and Berlin, or the gallerist René Block.
MG: Did you have the sense that Berlin was part of a broad international movement?
BB: In Berlin, as much as in Italy, New York, Cologne, Amsterdam, or Zürich there was a desire after the '70s to change something. The attitude of punk was hard to combine with conceptual art or minimalism. It did, however, fit with neo- expressionism. Punk was in the air.
MG: Were you accepted as a part of the art club by that time?
BB: Yes, I was a groupie.
MG: Did you become more interested in art as such?
BB: The next step for me was the exhibition the New Spirit in Painting in London in 1981, which was the first international exhibition I ever saw, followed by "Zeitgeist" in Berlin in 1982.
MG: With a very strong presence of German artists.
BB: I saw the show and I was totally impressed. I was twenty-four years old, the show was in the imposing Royal Academy of Arts in the center of London. I remember Baselitz and Picasso hanging next to each other in one room. What I saw on the wall spoke to me; it was kind of like a conversation between me and the paintings. I don't know what they told me but I was not alone.
MG: Was it then that you decided that you want to be a part of the art world?
BB: No. At that time it was too big for me. I had no idea about art, as I'd never studied art history. Instead I went out every night, did a lot of talking and drinking with artists, curators, and gallerists. It was an amazing time. DAAD was a very important factor: artists loved to stay in Berlin and kept coming back.
MG: How long did it take?
BB: About two years. Some artists moved to NY, some got better exhibitions than others, friendships collapsed and some became corrupted by money. I stopped working at Exil in 1983. I didn't like it any longer. Between '83 and '86 I was mostly working as an assistant to artists, stretching canvas and doing other uninteresting technical support work. Then I decided to move on and went to Cologne where I got a job with the photography dealer Rudolf Kicken, although photography wasn't really my passion.
MG: Was there a relationship between the Berlin and Cologne art scenes?
BB: Not at all, they were two independent places. Cologne was very close to New York; West Berlin was seen as a tiny little place, without money and with a wall around it. The Zeitgeist from the beginning of the '80s was gone and the art became too provincial again, there were no new artists on an international level.
MG: Was Cologne different?
BB: For me Cologne was like Kreuzberg had been before: I was living in the middle of the city and the two most important bars were just a five-minute walk away. Christan Nagel had just opened his gallery, Texte zur Kunst had just started up. Cologne was in its heyday – there was always something going on. I went to an interview for a management assistant position with the Michael Werner gallery, a big name already then. Werner saw me and said, "He's a nice guy, but he'll only be trouble so we can't do it." But they called me for another job – I became their record keeper, archivist.
MG: Did you like the job?
BB: I did. I had contact with the artists represented by the gallery, I developed ideas about exhibitions, met a lot of interesting people. I learned a lot about the communication between artists, curators, press, and collectors.
MG: Why was Cologne so special and so powerful in those days?
BB: Kippenberger was a hero; I admired Cosima von Bonin and Michael Krebber. A stone's throw from the gallery was the bookshop of Walther Koenig, another stone's throw away was Café Broadway, which was the daily meeting-place for artists. You would have coffee, sandwiches, or beer; then you'd go to Koenig to see what was new and then to work.
MG: Was Koenig's bookshop a kind of Internet, where you could check what was going on in the art world?
BB: Yes, it was very haptic though. The display in the window was done by Koenig himself and if something hot came out, you could find it there. On Saturday mornings everybody was in the café; it was fantastic and intense. To create an artistic movement it has always been important to have a village feel.
MG: Did the Cologne village function in a different way than what you experienced in the beginning of the '80s in Berlin?
BB: In Cologne artists were smarter, more intellectual or sophisticated. During the boom in Berlin in 1981 there were quite a number of uncool people, who were not sorted out carefully. In Cologne the intellectual debate was different. In Berlin we had the more conservative Neue Nationalgalerie and the Kunsthalle in Budapester Strasse but in Cologne you had the collector Peter Ludwig, who in 1985 opened the museum with his name and his amazing collection. I learned the most about art during the hours I spent in the Kunstsammlung Nordrhein-Westfallen. Its founder Werner Schmalenbach built up a great collection between the '50 and the '70s. I loved to go there on Sunday afternoons and just sit in front of Pollock's "Nr. 32" that had a Bruno Goller next to it; around the corner hung George Grosz's Der Liebskranke and Kurt Schwitters' Kleines Seemannsheim. Cool. Each time I left I felt good. Today, the same collection for some reason doesn't have the same energy. It stopped talking to me.
MG: What made you decide to start your own gallery?
BB: After three years of working for Werner I realised that it was time to stop my blablabla and start my own gallery.
MG: Did you sense that Berlin could be important again?
BB: On November 10, 1989 (the day after the fall of the Berlin wall) I was working at the art fair in Cologne. The whole summer had already been full of tension. The night before I had been watching TV and, to be honest, I was scared.
MG: What were you scared of?
BB: I had never been to East Germany.
MG: Did you never visit East Berlin while living in West?
BB: Never. I was scared. For me the communists were the same as Nazis. I tried to go to East Berlin twice but I always got too drunk to do it. I remember walking the dog in the middle of the night when I was living in Kreuzberg, when all of a sudden in the middle of the Spree River big spotlights came on to shine at the riverbank. The idea of the wall was monstrous.
MG: It must have been quite a step to move back to a Berlin?
BB: The next morning at the fair we sold a couple of Immendorff drawings from the Café Deutschland series in the first two minutes. I realised then and there that the focus on art was gone; the outside forces were too strong and nothing was the same as before. I decided to go back to Berlin in 1991.
MG: With the idea of setting up your own gallery?
BB: Yes, I found an old bakery in Wilmersdorfer Straße in the pedestrian area; I didn't have the guts to go to Auguststraße, which was the heart of the Berlin art scene at that time with Judy Lybke's and Klaus Biesenbach's spaces, whose shows were very successful.
I couldn't deal with the anarchy there so I went to Charlottenburg instead, to a place five hundred meters from the Paris Bar.
MG: How did you set up your artistic program?
BB: I counted on my artist friends from Cologne. I opened my gallery with a solo exhibition of Michael Krebber's work, and later showed Cosima, Albert Oehlen, and Christopher Wool, who was a DAAD guest. We spent a lot of time together.
MG: Did you treat your gallery as a way of life or a job?
BB: Between 1980 and 2000 I didn't have a private life. It was working, drinking, talking, sleeping, working, going to openings, looking at art. It was fun. I lived in a small apartment, which I used only for sleeping.
MG: How did you create your collectors base?
BB: I went for example to Unfair in Cologne that Christian Nagel had set up. It was quite a successful debut. I made a portfolio of works with Pettibon and sent letters to people in Cologne, Hamburg, and Munich asking if they were interested. If they were, I would travel to them, display works on the floors of their houses and sometimes they would buy something. There were times when I was completely broke but it was very intense. My lifestyle didn't change a lot until 2000, when we had a baby.
MG: Your wife Nicole joined the gallery in 1994.
BB: I met her when I opened my gallery, when she was finishing her studies.
MG: Was it easy to divide the work between the two of you?
BB: It was always good to have different energy levels. Up until 2000 everything was based on endless communication. My life has only been different in the last eight years since we are living in suburbia. Before, the gallery was downstairs, our kitchen and bedrooms upstairs.
MG: You have shown many international artists in your program from the very beginning. How did you find Peter Doig, for example?
BB: It was in 1994. Someone gave me a copy of the New York Times about the young gallerist Gavin Brown, because the art critic Roberta Smith wrote two pages about him. There I saw a black-and-white reproduction of a painting by Doig mentioning that he was living in London. I called the international telephone inquiries, asked for the phone number of Gavin Brown, got him on the phone, introduced myself as a gallerist from Berlin, and congratulated him on the article. Then I mentioned that I was going to London the next day and asked him whether I could meet with Doig. Brown sent me a fax with Doig's number and I made an appointment with him in a pub around the corner from the Graucho Club in Soho where I was staying; we were supposed to have a drink, then we got completely drunk and that was a beginning of our cooperation.
MG: You organized a couple of exhibitions with Doig – you represented him for a while but not any longer. How does it feel that artist come and go?
BB: It happens. Maybe it has to do with my temper, but also with other factors. Artists expect from a gallerist that you stand by them in the good times and the bad times, which is easy to do when you believe in an artist but very difficult to do when you've lost faith in them. Another factor is that the scene in Berlin has its limits today. Not only for me.
MG: Has it happened often that you've lost confidence in an artist?
BB: Not often, but it happens.
MG: Speaking about changes, nowadays you also participate in a lot of fairs.
BB: We are doing five art fairs and I feel quite comfortable with the fairs in Basel, Miami, Hong Kong, London and Cologne.
MG: How global is your gallery business?
BB: It is very global.
MG: What do you think about the hypes? You used to work with Damien Hirst and Jonathan Meese and now you represent Christian Rosa.
BB: For the artist it's great: you're young, you can travel, you meet interesting people, people like you; if you like girls you'll find them, if you like boys you'll find them, the world is good to you. Everybody wants to talk to you. Unfortunately it never lasts, but nobody wants to hear that it can be over. Having said that, it's not so easy to start a hype however; the negative connotations are therefore quite stupid.
MG: What do you need to become a hyped artist?
BB: When I met Damien Hirst for the first time he was pure energy. I remember we went to a Berlin bar in Moabit, a very simple watering hole, to have a drink. After twenty minutes everybody was talking to him in German, poor English or Berlin dialect, and he was talking back in English; it was because of his energy that people were losing their inhibitions. Jonathan was on another level, a bit like a medium. When I met him for the first time, I said, "I want to do a show with you," although I hadn't see anything he'd made. I knew that even if he made something bonkers it would be special bonkers.
MG: Did a lot change for you when you moved your gallery into this huge space at the Museumsinsel?
BB: Over the past fifteen years auction results have dominated newspapers – we don't talk about what it is to see anymore but first and foremost about the price. We needed this space to meet the demands of our artists, to put art in the spotlight. We have high ceilings and natural light here, which is great. David Chipperfield, the architect of the building, makes great art spaces.

MG: You recently celebrated the twenty-year anniversary of your gallery. What is your wish for the next twenty years?
BB: To stay fit, that I can go out and work every day, and – of course – the normal stuff: good kids, a charming wife and a lot of sex.
Photographs by Philippe Gerlach